Music Groups/Music Classes for Toddlers, Preschool and Babies in Berkshire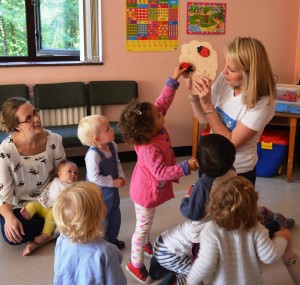 Hi, my name is Sara Bradley and I am delighted to have brought Musical Minis to Berkshire.
I attended a Musical Minis class for the first time with my son Ethan who was born in 2013 and we both had such a great time singing songs, playing new instruments, joining in the actions and listening to stories.
Inspired by my mum, who successfully ran a local preschool at which I also worked whilst studying Linguistic Science with Child Language Acquisition at The University of Reading, I have always enjoyed working with children. I was so impressed with the Musical Minis programme that I decided not to return to my marketing career after maternity leave and instead begin Musical Minis in Berkshire.
Nursery rhymes and songs with actions, stories with puppets, an array of instruments to play with….the Musical Minis programme has been designed to assist parents and carers to join in activities with their children, in helping to encourage the child's natural attraction to music and teach them the principles of good early speech with repetition.
If you are looking for a fun-filled class where your child will be allowed to develop their creativity and grow in confidence every week, whilst simultaneously enjoying an introduction to music in a relaxed and entertaining environment in which you too can make friends, Musical Minis is definitely for you.
Come along and see for yourself. To book or if you have any questions, please don't hesitate to get in touch with me and I'll be happy to help.
I look forward to seeing you and your children at Musical Minis soon.
To read more about Sara click here.